Trusted Around Australia
48K Australian businesses rely on Alsco weekly
27 branches in Australia, with one near you
150 years in business
Why Should You Choose Alsco?
There's a reason why thousands of Australian businesses choose Alsco for first aid supplies.
Buying a first aid kit seems like a good idea. In fact, many businesses do. But after they experience the hefty initial costs, complying with complex WHS regulations, relentlessly replacing stock, and the piles of admin work involved….well, they're often quick to contact Alsco.
Fixed Annual Fee – Quarterly Servicing & Refills
We take care of every detail. Because our rental program is more than just rental. It's year-round peace-of-mind for your business. With a single, fixed annual fee and quarterly servicing, we maintain, restock, and keep you up-to-date with complex, ever-changing regulations – at no extra cost. That's our guarantee.
Australia's Favourite First Aid Kit Provider
With over 150 years of experience, we've nailed our first aid managed rental service. And with 48,000 businesses relying on Alsco daily, the benefits of our products speak for themselves. Just in case, we'll say them, anyway:
Quarterly servicing keeps your kits restocked – at no extra cost
Fool-proof – a colour-coded module system means the right items are used for the right injury
Hospital-grade supplies and materials
Regularly checked for compliance with complex WHS regulations
Stored in sturdy, visible kits/cabinets for ease of use
One annual fee keeps you limitlessly refilled – for free*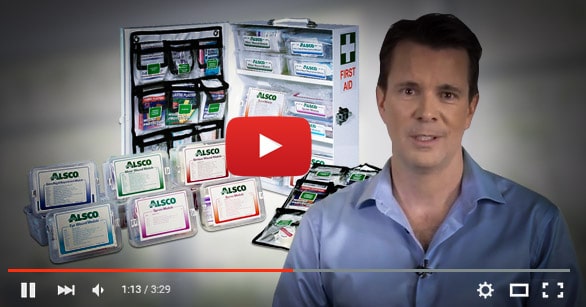 ---
How Can You Benefit From Renting Vs Buying?
One Annual Fee – Limitless Refills
When you rent with Alsco, you pay one, single fee. That's it. Alsco's unique managed rental service covers you for year-round maintenance, restocking, WHS updates and short-notice supplies – at no extra cost. With Alsco, you can save time and be kind to your cash-flow – simultaneously.
Up-To-Date With Complex Regulations
With Australia's WHS regulations, your business can be fined for up to $3,000,000 for lack of compliance. With Alsco, that worry vanishes. Our seasoned professionals regularly check your kits for compliance with the most recent WHS regulations. With Alsco, the time wasted on WHS checks is returned to you and the stress and worry – disappears.
Convenient & Flexible Servicing
Have a specific schedule for maintenance? Unique requirements for first aid kits? Perhaps you need extra supplies one day? Alsco's team of professionals are happy to fit their approach to your business…making our managed rental service an even greater no-brainer.
Cashflow-Friendly
Day-to-day, company-wide safety for less than a cup of coffee? Absolutely! With Alsco's fixed, annual fee – you get quarterly servicing and limitless* kit refills – at no extra cost. Avoid the cripplingly large purchase fees and be kind to your cash-flow with Alsco's managed rental service. Your employees and your bank account will thank you for it.
---
Clients & Testimonials
More than 48,000 happy customers
After being introduced to Alsco's Managed First Aid Service, I have found that I don't need to worry about WH&S compliance. My first aid kit is updated quarterly and is always maintained. It really helps my business, as I don't have to restock the first aid kit myself. Alsco does it all for me.

Scott Corrie, Director at Versatile Sydney Pty Ltd

On behalf of Aldinga Shopping Centre, I would like to take this opportunity to thank Alsco for the service provided managing our onsite First Aid kits. This service relieves this centre of the unnecessary burden and time in meeting our duty of care obligation and gives total peace in mind with the knowledge our kits are always up-to-date and ready. I have no hesitation in recommending this highly valued service.

Peter Smith, Centre Manager, Aldinga Shopping Centre

Aerial UTS Function Centre has been using Alsco for the past few months and we have been extremely impressed. Customer service is fantastic and personalized and deliveries arrive like clockwork every week. Would recommend to other venues in the hospitality industry with no hesitation.

Sally Grady, Aerial UTS Function Centre

The Abbey Function Centre and Functions at Federation have been using Alsco services for five years. The service they provide is outstanding. Their deliveries are consistent; their products are quality and they are always cleaned to a high standard. Their service staff are reliable, helpful and they always ensure last minute orders are accommodated.


Andrew Hollands, Business Owner, The Abbey Function Centre