Alsco can supply your business with a managed Automated External Defibrillator (AED) service to ensure you have access to a high quality, affordable Automated External Defibrillator at all times.
With sudden cardiac arrests occurring anywhere and at anytime, workplaces need to be adequately equipped to handle such emergencies. That is why WH&S legislation recommends that places of work have an AED on site.
Through Alsco, you and your staff will benefit from one of the world's leading AEDs, the HeartSine Samaritan 500P.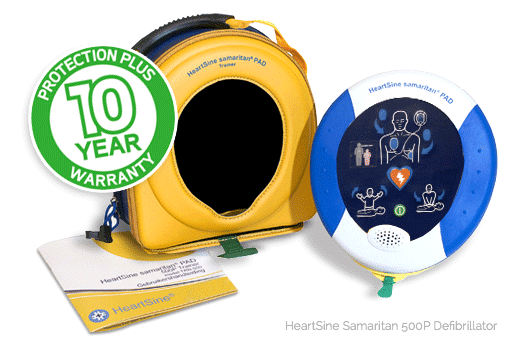 Sudden cardiac arrests can happen anytime and anywhere and this is why your workplace needs access to effective and reliable emergency medical equipment.
As recommended in WHS legislation, every workplace in Australia should have fast access to an Automated External Defibrillator on site.
Alsco offers your business an easy-to-use and effective Automated External Defibrillator (AED) at a convenient, low monthly cost or outright purchase.
Save the lives of your workers during emergency medical situations.
Through Alsco your business will benefit from access to the world's leading AED technology, the HeartSine Samaritan PAD 500P at an affordable price by opting for our rental program.
This portable AED is best-in-class with simple press-button technology and step-by-step voice instructions making it suitable for use by both professionally trained medics and non-professionals with no medical training.
Alsco Rental Program
Take advantage of the Alsco Managed Service for Australian workplaces. Rather than purchasing an AED for each area in your business you can simply hire it for one low cost.
The Alsco rental program also includes regular check up, maintenance, replacement pads and general resupplying services so you don't have to hassle yourself on complying with the WHS legislation in Australia and focus on other aspects of your business instead.
Other benefits that are included of our rental program that you can purchase together with our AED are:
The Automated External Defibrillator, comes with a 10-year warranty so you don't have to worry about the cost of the equipment needing to be replaced or being properly maintained for use, as long as it is within the warranty conditions.
Key Portable AED Workplace Benefits
Easy-To-Use During Emergency Situations
Easy-to-follow visual and voice prompts that advises the rescuer on what to do and the necessary changes to CPR or shock delivery.

Users can easily use the AED with the three large and easily understandable icons that will help facilitate the entire process of resuscitation which are: "Attach pads", "Do not touch the patient", and "It is safe to touch the patient".
The straightforward two-button operation of the HeartSine Samaritan PAD 500P which are ON/OFF and SHOCK makes it easier to not make mistakes during the resuscitation process.
Its System Status Ready Indicator will help the user to know when the entire system is ready for use and not to mention it also runs a self check every week for safety and operational purposes.
Suitable for Harsh and Dangerous Workplaces
The HeartSine Samaritan PAD 500P uses advanced patented technologies to improve the rescue process which include:
Cardiac arrhythmia detection and defibrillation algorithm
SCOPE™ (Self-Compensating Output Pulse Envelope) biphasic waveform technology which automatically adjusts itself depending on the differences of the patient's impedance to assess the most effective shock delivery required.
Features a compact design with measurements of 20 cm x 18.4 cm x 4.8 cm (8.0 in x 7.25 in x 1.9 in), which means it can be easily installed on locations.
It is also very light, weighing at only 2.4 lbs (1.1kg) so that you don't have to worry about it causing any damage to the walls that it is installed on.
Very durable thanks to its shock and vibration resistance, and high level dust and moisture protection with a rating of IP56, which simply means that it is great for places that are constantly being exposed to dust, moisture, and heavy equipment such as construction sites, laboratories, and so on.
Low-Cost Upkeep and Efficiency That Saves You Time and Money
The Pad-Pak™ cartridge is the combination of two parts which are the battery and the electrode pads. This means both parts have a combined expiration date so that resupplying and replacing them is hassle-free.
The cartridge has a shelf life of 4 years which starts from the date of the manufacturing process which will save your business a lot of money compared to other AEDs.
Easily upgradeable in the field to the latest AHA/ERC guidelines.
To find out if you need an AED make sure you watch:
Keep your workers safe and prepared for emergency medical situations. Enquire about Alsco Automated External Defibrillator managed rental services on 1300 077 391