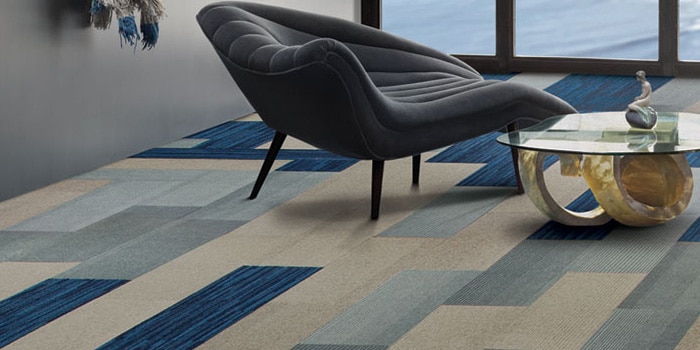 Back in 1994, Ray Anderson, the founder of Interface – one of the world's largest carpet manufacturers – challenged his employees to pursue a bold new vision: to "be the first company that, by its deeds, shows the entire world what sustainability is in all its dimensions: people, process, product, place and profits – and in doing so, become restorative through the power of influence". Using the inspiration its designers found in the natural world, Interface developed its 'Mission Zero' campaign, which aims for zero emissions, zero waste and zero oil by 2020.
During the last 20 years progress has been steady. Interface was there as the fledgling voluntary carbon offset market was established and in 2011 became the first carpet manufacturer to launch a product with 100 per cent recycled yarn. Since then the company has looked at ways to reduce not only the environmental impact of its own operations, but the full lifecycle of its products. Waste reduction efforts have resulted in a 84% decrease in total waste to landfills from Interface carpet factories since 1996 and, as of 2012, seven of nine factories operated with 100% renewable energy and 36% of total energy usage was from renewable sources.
More recently, the European division of Interface has achieved some ground-breaking results: carbon emissions cut by 90% and water usage reduced by 95%. The trailblazing sustainability targets were achieved last month at Interface's European manufacturing facility in Scherpenzeel in The Netherlands. The carpet manufacturer also unveiled that it was sourcing 100 per cent of its energy from renewable sources and had achieved zero waste to landfill at the Dutch site.
Commenting on the milestones, Ramon Arratia, European Sustainability director at Interface, said: "Today, at Interface Europe, we are announcing that we are reducing our carbon by 90 per cent and water by 95 per cent from January 1st 2014. It is possible, it's here and it has happened in a carpet industry, which one could say is an extension of the petrochemical sector."
Green innovation
Arratia said Interface Europe had achieved the reductions through a number of innovations, including the switch to green gas. He said the company was paying a premium for the gas, but it was a cost the company could afford because of a series of efficiencies it had already implemented.
"We are achieving the 90 per cent carbon reduction with 60 per cent efficiencies and 30 per cent renewables, not the other way around," he said.
The green gas is being produced by anaerobic digestion of fish waste, which is then being turned into natural gas and pumped into the gas grid. The other main innovation adopted at the Dutch manufacturing facility to improve efficiencies has been a water recirculation system through closed loop piping.
How does your business compare? How could sustainability be improved? At Alsco we are committed to reducing the environmental impact of our business and to finding more sustainable ways to serve our customers, through means such as our Evolution Recycled Rubber Mats range and the Ecosafe Parts Washer. Interface's success serves as inspiration to continue our efforts to create a greener Alsco.